Ayahuasca Retreat
Maximun available spaces 6 persons
Taking part in this 5 days Ayahuasca Retreat you will be able to participate in a deep process of healing, and you will have a possiblity to connect with your higher Self living a pick psychedelic experience. This retreat includes 3 ayahuasca sessions as a part of a new methodology known as "Ayahuasca Therapy" which is based in Psychedelic Therapy and Existential Psychology, integrated to the wisdom from the Amazon Culture. We invite you to come to visit the Sacred Valley in Cusco, Peru.
If you are interested to know more about ayahuasca retreats, you see here:
Please, remeber it is really very important to follow the dietary recommendations:
If you are interested to participate in a retreat, see here:
US $ 700
Whats is included?
Participate in 3 Ayahuasca ceremonies in a retreat house, close to a sacred mountain in the Sacred Valley of the Incas. In the house there is a space specially designed for the ayahuasca ceremonies, which is a quiet place ideal for the ceremony.
Participate in Reintegration Therapies and re-elaboration of the contents of the experiences. The next day, after each ceremony, there is a personal and private conversation to discuss the contents emerged during the ceremony with the intention of finding a way to integrate the process into daily life.
Special foods for each day of the retreat. The food is vegan, with organic vegetables. All meals are prepared according to the diet and use of teacher plants.
Accommodation during the days of retirement in a Retreat House in comfortable rooms with private bathroom and hot water.
Private mobility on the first day of the retreat from Cusco to the retreat house and the last day of the retreat back to Cusco. The first day of the retreat we will coordinate with a private vehicle to pick you up from your accommodation in Cusco and take you to our retreat house. The last day of the retreat there will be transportation to take you back to Cusco.
What is not included?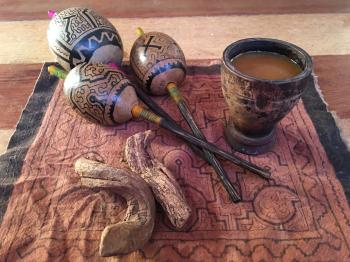 Any international or national flight
Fees associated with money transfers for the payment of reservations.
Travel and health insurance
Personal expenses
Accommodations in Cusco outside the dates of the program
We recommend to bring with you:
Comfortable and warm clothes for ceremonies
Sunscreen
Rain coat (Between October and April)
A notebook to write about your experience
Hiking shoes
A bottle for water
A flashlight
All the necessary clothes for the days of retreat. There is no laundry service.
If you want to participate in a retreat, these are our available dates: