What is an Ayahuasca retreat?
What is an Ayahuasca Retreat?
These experiences with Ayahuasca usually produce a liberating emotional catharsis and insights that help us to know more about the internal reality of our Self, awakening inside us an intuitive transrational or translogical inner capacity. The non-ordinary states experienced during the ayahuasca ceremonies, sometimes facilitate the resolution of existential conflicts or bring solution to different types of psychological traumas or emotional problems.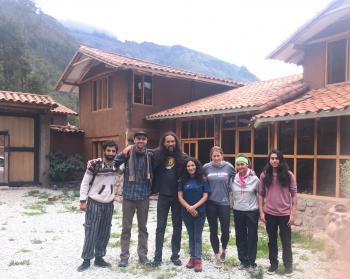 The way the ceremonies are guided at the ayahuasca retreats are relatively a new methodology. Therapy with Ayahuasca is an integration between the wisdom of the original peoples of the Amazon and the current psychospiritual or existential therapy. In Therapy with Ayahuasca, ancestral spiritual knowledge and techniques are combined with techniques and methods of Western psychedelic psychotherapy. Ayahuasca Therapy System uses knowledges from different psychological approaches, as well as techniques and knowledge from different traditions of wisdom.
Only six people can participate in the ayahuasca retreat, and only two or three ayahuasca sessions are included during a retreat. For many years, we have been designing the therapeutic method with ayahuasca and developing the technique of giving ayahuasca medicine which has evolved over the years through constant training and learning. In the Ayahuasca Retreats, the idea is to provide personalized assistance throughout the development of the retreat.
Preparation prior to the Ayahuasca Retreat is a very important requirement, it is the so-called preparation diet, which consists of a series of recommendations or suggestions that are intended to help participants to connect more easily to the healing power of Ayahuasca medicine. The diet also prevents certain complications during the experience with ayahuasca, helps to have the body more prepared to receive ayahuasca medicine, and facilitates its assimilation. The ayahuasca diet is not always the same in all places, that's why we have adapted a diet convenient for pursued proposes in our Ayahuasca Retreats.
it depends on the objectives of the type of ceremony and the knowledge and experience of the guide of the ayahuasca ceremonies.
It should be noted that the most important thing about the ayahuasca retreat, is the integration process after the ayahuasca ceremonies, that is, an appropriate psychological and spiritual training that will be suggested by the guide of the ayahuasca retreat.