Sapan Inka Retreat Center
Ayahuasca Retreats in Cusco, Peru
Ayahuasca Retreats in the Sacred Valley in Cusco, Peru. In the Ayahuasca Retreats you can be part of a deep process of healing and a transpersonal experience. 6 persons is the maximum availability in our Ayahuasca Retreats. Thanks to many years of experience working with Ayahuasca, we have developed a technique integrating shamanism and psychotherapy, and we have learned that the most convienient organizing a retreat, it is not to include more than 3 ayahuasca ceremonies in our Ayahuasca Retreats. Ayahuasca experience might be very powerful, and even to some persons to participate in just one ceremony could be enough for their initation. We think it is not necessary to participate in more than 3 ayahuasca ceremonies in a retreat.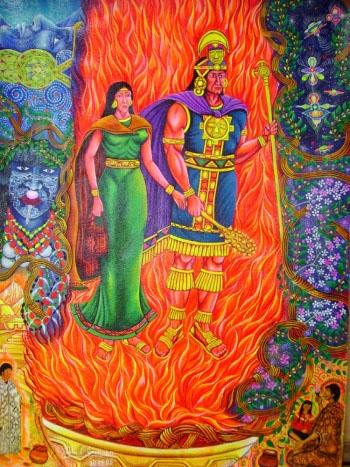 The Sapan Inka Retreat Center organize Ayahuasca Retreats in Cusco, Peru, using teacher plants (Ayahuasca & San Pedro) as tools for the healing and theraeutic process where the main intention is to experience a deep process of healing and cleaning, and to reconnect with our spiritual dimension.
In our Ayahuasca retreats the most important is what we call the "Psychological integration", it is a psychospiritual therapy. The intention for this integrative therapy is to try to find or discover our own capacity of self-healing, to explore beyond our field of consciousness, to know our own potential to develop or evolve our personality, and to ascend and connect with our Spiritual Self.
We think it is really necessary and very important to know how to integrate this experience into our daily life. And we believe that maybe that is the most important when our main intention is the inner growth or self knowledge.
When we organize Ayahuasca Retreats our priority is to take care of all the participants during all the Ayahuasca Retreats, that is our main responsabilty and that is the main reason we work with small groups in order to be able to give a safety setting for everyone.
Psychological Integration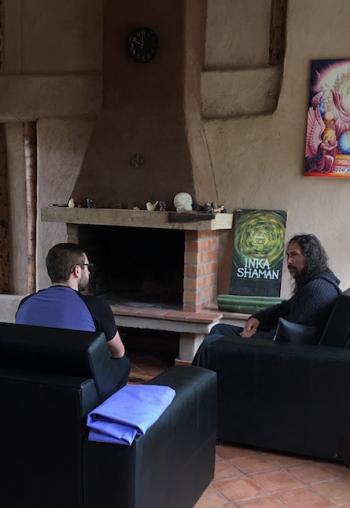 Thanks to many years working in Ayahuasca Retreats and developing a Psychological Integrative Therapy, we have understood that the most convenient in this process of healing is to organize retreats with small groups and not to include more than 3 ceremonies in a retreat, mainly if it is your first time. This experience might be very powerful, so it is very impotant to be careful in order to get the best from your experience and to know how to integrate it into your life.
A very important part in Ayahauasca Retreats is the psychological integration therapy which is a personalized therapy with every participant in the retreat. Here we help to the participants to learn how to integrate their own process of healing into their lives.
Ayahuasca Ceremony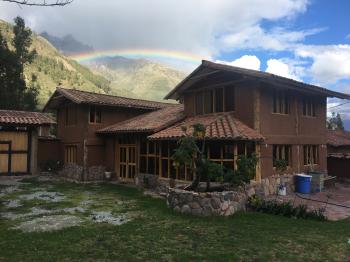 From our point of view, in the Ayahuasca Retreats, the Ayahuasca ceremony is a very important element in the therapeutic process of cleansing and healing, it is the most important part in the Ayahuasca retreats, and it is the fundamental axis of the psycho-spiritual therapy that we have been developing in the course of the years.
The "Ayahuasca Ceremony" has its origins in the peoples of the Amazon jungle and in the ancestral wisdom. This wisdom is a deep bond with nature and it has allowed to the people of the jungle to be able to know about the medicinal powers of plants, including Ayahuasca. The Ayahuasca Ceremony is a practice of the Amazonian culture that has passed down through the centuries, generation after generation and has reached our days. We have learned from this practice and we have adapted it to the needs of psycho-spiritual healing and self-knowledge required in our present civilization.
What is an Ayahuasca Retreat?
The Ayahuasca Retreat is considered as a psychoespiritual therapy. This retreat or therapy is a process where the participants live an experience of initiation with sacred plants.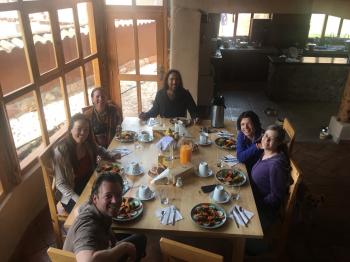 Sapan Inka Ayahuasca Retreat Center integrates shamanic healing wisdom from the amazon jungle into an integral practice where the main intention is to get emotional balance, psychological health and mental clarity. The Ayahuasca ceremony is a healing journey for self-exploration and reconnection with our inner wisdom and spiritual dimension. This healing process and inner experience will give us the possibility to know more about ourselves and to learn how to be able to develope our own potential.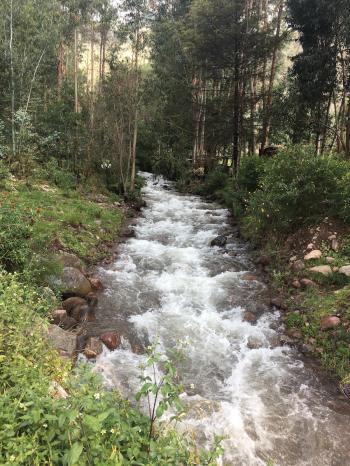 From our perspective, we think that the use of Ayahuasca medicine is a tool that allows us a deep introspection, a conexion with the wisdom that all we have inside, and it helps us to use our own healing potential. This healing process help us to clean and detox the body, to release and unblock emotionally and psychologically, and to clean energetically. We consider to Ayahuasca as a tool to help us on self-knowledge, self-healing, and for development of personality.
We have decided that the number of participants for a retreat should be limited, in our retreat house the maximum availability is for 6 participants. A larger number of participants do not allow taking a constant care on the process of every participant. We consider that it is necessary for people to have comfort during the retreat days, so the retreat house has 2 bedrooms each one with two beds and private bathrooms. The house has permanently hot water and the environment around the retreat house brings peace and serenity to the participants. Our Retreat house is located in the Sacred Valley in Cusco - Peru. Food during the Ayahuasca Retreat days is vegetarian and is a complement to the use of sacred plants.
Available dates
We organize retreats in Cusco, Peru. You can know about our Ayahuasca retreats and our available dates here:
6 days Machu Picchu Retreat
(Cusco, Peru)
In this 6 days Machu Picchu Retreat you will have the opportunity to live a deep process of healing and to explore your spiritual dimension, and at the same time to visit the most important site of the Inca culture, Machu Picchu Inca Temple, a mystic and myterious place of an ancient culture of wisdom. This Ayahuasca Retreats are in our house in the Sacred Valley of the Inkas. This Ayahuasca retreat includes 2 Ayahuasca ceremonies, 1 San Pedro ceremony, 1 ceremony for offering to Mother Earth and Psychological integration.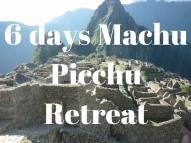 5 days Ayahuasca & San Pedro Retreat
(Cusco, Peru)
The 5 days Ayahuasca & San Pedro Retreat is a healing process where you will have a possibility for self-knowledge and self-healing. Techniques that we use in this process are part of a holistic method where we use knowledges from amazonic and andean culture and from other traditions of wisdom, including Humanistic and Integral psychology. Our main tool in this process is the use of the Teacher Plants (Ayahuasca & San Pedro). The purpose in the Ayahuasca Retreats is to clean at diffferent levels, it means to detox the body, to release energetic blocks, to help to clean heart, mind and soul. We believe that this process is an effective way to help you to discover your own potential and to help you to find a way how to heal emotional and psychological issues.
Ayahuasca & San Pedro Retreat:
5 days Ayahuasca Retreat
(Cusco, Peru)
The Ayahuasca Retreats are psychospiritual therapies with the objective to support people for the resolution to emotional and bio-energetic blocks. It is also our intention to support to the participants during a possible acces to holotropic states, i.e. states "moving toward wholeness." The Ayahuasca therapy objective is to get that the personality becomes a totality, and for the achievement of this goal it is required the self-knowledge, which will allow to the contents from the unconsciousness to be integrated into the total personality of the Self, this process is a process of "integration".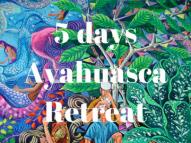 Why small groups?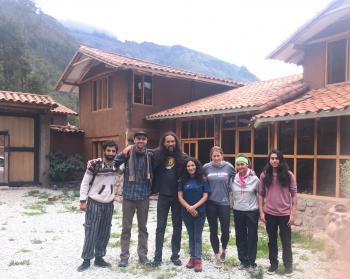 In Sapan Inka Retreat Center we think it is very importan a direct and individual interaction in the ayahuasca retreats, and it is necessary to give personal assistance to the participants and a confident space for everyone. That's the reason why we do retreats with samll groups of persons.
For us to guide an Ayahuasca Retreat is a big responsability where it is necessary a deep respect for all the participants. We believe it is very important in the Ayahuasca Retreats to give confidence, security and personal assistance all the time. According to our experience we have learned that we cannot work with too many persons in a ceremony or in a retreat, because in the ceremony we need to support to every participant, we need to take care of the process of everyone, to be able to support or help when it is necessary, and if there are too many persons in the ceremony, it is not possible to do it.
Ayahuasca Retreat Center
The Sapan Inka Ayahuasca Retreat Center is located in the Sacred Valley, Calca, Cusco, Peru. The house where we organize our retreats is a very special place surrounded by beautiful sacred mountains, a native village of farmers, a natural landscape, peace and pure air.
We consider as a part of our responsibility, preservation of traditional knowledge of our ancestral culture, and also to give to the participants in the ayahuasca retreats an opportunity to know more about our ancestral system of healing.
We use teacher plants (Ayahuasca and San Pedro) based on the ancestral amazon and Andean knowledge. To cook the medicine it is used just two plants: Ayahuasca vine (Banisteriopsis caapi) and Chacruna leaves (Psychotria viridis). We don't use any other plant for the brew.
Ayahuasca Healers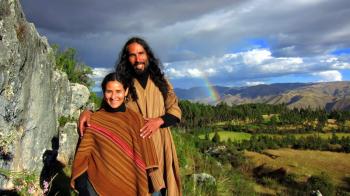 We are the Sapan Inka Retreat Center team and we are over ten years of experience in the direction of Ayahuasca Retreats. We were more than 5 consecutive years receiving training from Shipibo healers, living and learning with them.
We are a married couple engaged in therapeutic work with teacher plants. Our responsibility is to support and guide all participants of the ayahuasca retreats during the process of energetic cleaning, and emotional and psychological release. We have extensive experience leading therapeutic ayahuasca ceremonies, working with Ayahuasca and San Pedro.
We are studying constantly on extensive knowledge of the structure of the soul, about spirit healing processes, psychological development, inner growth and evolution of personality. In the psychotherapeutic practice we use different approaches with the intention to integrate wisdom from different ancestral and spiritual traditions to a methodology that allows to use the ayahuasca medicine on the recovery and healing of different mental or emotional disorders and also as a tool that allows the development of our own potential of healing and evolution.
Reviews
Brian McMeekin April 28, 2017
Wow, can't really put into words how grateful I am to have come across Erik & Nilda and their Sapan Inka Ayahuasca Retreats. Erik & Nilda are the most caring, loving and supportive couple I have honestly ever met and they both have a great understanding of healing and reintegration practices. The entire 6 day ayahuasca retreat was flawlessly organized. Me and my cousin did the 6 day retreat, with two ayahuasca ceremonies and one San Pedro ceremony - because of Erik & Nilda's extensive knowledge with these healing plants, all participants had a positive healing experience that can't quite be put into words. Also, on the last day of the retreat, Erik & Nilda organized the entire day of visiting Machu Picchu and even paid for lunch. The cost of the trip pays for itself and I can honestly say I would pay 5 times the amount they charged to experience what I did. For me personally, I credit Erik & Nilda's knowledge of the sacred medicines for the reason why the experience was so positive and uplifting . The location of the retreat house is really awesome, it's in a really quiet area in the sacred valley of Peru, with a clean river flowing from the top of the mountain and the house is basically in a bowl of beautiful mountains. I will remember and cherish this experience for the rest of my life and recommend Sapan Inka to all who seek and need powerful internal healing. Kindest Regards! -Brian M.
Helia Baptista June 15, 2016
After 9 years of experience with the Medicine in groups I decided to search for something more personalised where I could work on myself in a more deeper way...and I found Sapan Inka. I was very curious with their approach..groups of 4 people and a psychological integration of the experience. It was more that I could ever expected... In a time where even the Sacred Medicines are turned into profit and business, Erik and Nilda are a breath of fresh air! Extremely professional, mature,caring and thoughtful they facilitate a healing process in a beautiful environment. They respect themselves, they respect us and they respect the Medicine. I can't emphasise more what a privilege it was for me to meet them and what an honour to be able to discuss deeper everything related with the experience in a psychological way. Always respectful, humble and compassionate they just simply emanate LOVE and are true HEALERS! I wish that everyone who is willing to experience the Medicine could have the support and guidance of Erik and Nilda! I got from the retreat everything that I was looking for and much more and will be coming back very soon!!! With Erik and Nilda's support I changed stone into Gold! Thank you from my heart! 💖
Shannon June 12, 2016
Erik and Nilda are very powerful, compassionate healers who work with integrity. I highly recommend this ayahuasca retreat. People have different reasons for trying ayahuasca. I personally was interested in healing and processing trauma. Erik and Nilda have a strong understanding of psychology and use ayahuasca to promote healing, so the retreat was a perfect match. I can confidently say that my life is much better after my time at Sapan Inka Project.They conduct the ceremony with a high level of expertise, professionalism,and integrity.The sessions with Erik were very helpful in allowing me to talk about what I experienced in the ceremonies and to gain a greater understanding. Their Ayahuasca retreats house is in a beautiful setting, the home cooked vegetarian food is fantastic, and I felt safe and cared for the whole time. If you are looking for a powerful supplement to traditional psychotherapy or are just interested in experiencing ayahuasca, you can't go wrong with Sapan Inka Project.
Beatriz Garces March 6th 2017
There are not enough words I could write to express my gratitude to Erick and Nilda for their hospitality, care, and the reassurance offered during my retreat. These two are special souls who fulfill their life purpose of helping others heal through cleaning the body and spirit. Their home is comfortable, the meals are delicious, the surrounding scenery is spectacular, their super friendly dogs are playful and loving, and the ayahuasca ceremonies are extremely beautiful and impactful. I have never felt so much love in my heart. There was nothing scary about this experience. The mother plant is very effective in unearthing anything that might be hidden from the view of the person who is taking it. This is perfect for those who unconsciously tend to burry their feelings.
If you are reading this review and are seriously considering taking this journey there is no need to look elsewhere. This is the place for you.
You can read more reviews about our Ayahuasca Retreats Center here:
Ayahuasca Research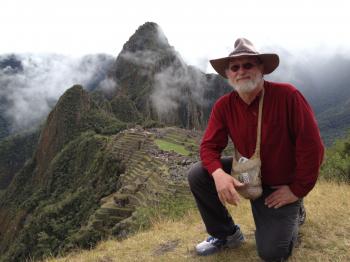 Ayahuasca: An Ethnopharmacologic History
1998 Dennis J. McKenna, Ph.D.
The Alternative of Indigenous Knowledge to the Therapeutic "All or Nothing"
Dr. Jacques Mabit
The Therapeutic Potentials of Ayahuasca: Possible Effects against Various Diseases of Civilization
By Ede Frecska, Petra Bokor and Michael Winkelman
You can read more interesting information about Ayahuasca here:
Sapan Inka Retreat Center Location
Cusco, Peru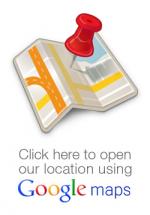 Cusco - Peru