Our Retreat House
Ayahuasca Retreats with small groups
Cusco, Peru.

The Sapan Inka Ayahuasca Retreat Center is located in the Sacred Valley, Calca, Cusco, Peru. The house where we organize our retreats is a very special place surrounded by beautiful sacred mountains, a native village of farmers, a natural landscape, peace and pure air.

The sacred Valley was one of the most important places of the Inca culture, we believe that it is an ideal place to live a healing experience, to connect with nature, and to work with teacher plants. It is really a retreat place where you can experience the peace of the montains, a clean air, a healthy and quiet enviroment.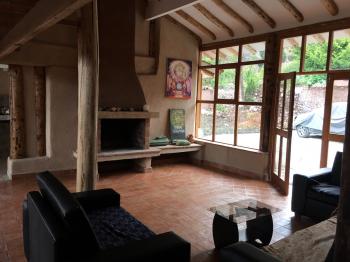 Our Centre is one and a half hour far from Cusco by car. It is in the way from Pisac to Machu Picchu. Going to our place you will enjoy the majestic mountains of the andes.
When you participate in a retreat, the transportation is included, we coordinate to pick you up from Cusco to take you to our home and at the end of the retreat we take you back to Cusco. Also our house is in the way to go to Machu Picchu, so it is also possible, at the end of the retreat, to take you to the train station in Ollantaytambo.
In the Retreat Center we have a special temple for the Ayahuasca ceremonies. Every bedroom in the house is for 2 persons and each one with private bathrooms with warm water all time. A comfortable diningroom to have all the meals to have nice talks with the participants of the retreats.
The maximum number of participants is 6 persons. The house has the necessary facilities for the retreat: warm water all day with comfortable showers, clean and nive bedrooms ideal for a good rest after the ceremonies.
If you want you can walk around the house during the days of the retreat, or maybe to go close to the river or just to walk by the village of farmers close to the house.
Our house is here: