Our Retreat House
Ayahuasca Retreats with small groups
Cusco, Peru.
We consider as a very important aspect in a therapeutic or healing process in the use of Ayahuasca medicine, to work in adequate environments which are favorable to be able to live a positive experience with the teacher plants. The environment or setting is a very important element during the experience in Ayahuasca sessions.
The Sapan Inka Retreat Center is located in Urubamba, a town in the Sacred Valley of the Incas. It is a place surrounded by beautiful mountains, fresh and clean air. The Retreat House is a very spacious and very cozy place, with completely suitable environment to live this spiritual retreat.
Our Retreat Center is an ideal place to organize retreats with Ayahuasca and teacher plants. The house is located in a totally private place, and has adequate spaces that allow working with small groups (maximum 6 participants). The house is surrounded by the sacred mountains, near the Urubamba River, on the way to Machu Picchu.
The Sapan Inka Retreat Center has all the necessary elements to organize the sessions with teacher plants. It has a special space to experience the Ayahuasca sessions, we call it our temple, it is a clean, spacious, acoustic and private space. It is a space separated from the house and has its own bathroom.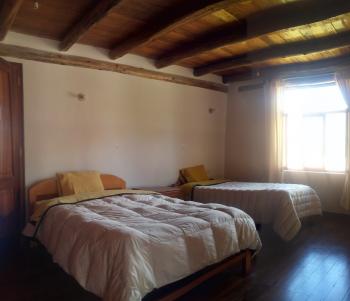 The rooms are all inside the retreat house, on the second level. Communication with the process guides is always easy to access, and the guides are willing to provide assistance at any time during the night. The rooms of the house are each for two people. We have 3 rooms for participants, two people in each room (6 participants), and each room has two single beds, each bed with clean bedding and feather duvets. In addition, each room has a private bathroom with hot water 24 hours a day. The rooms are clean, spacious and very comfortable.
The house also has a spacious living room and has many gardens and private spaces. We have a nice dining room where you will enjoy food specially prepared for the days of retreat.
Our house is located at a distance of an hour and a half from Cusco, by car. The participants of the retreat are picked up from Cusco and we take care of bringing them to our house.